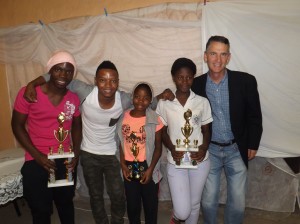 We believe God is raising leaders for the next generation right here at Makaphutu Children's Village,  so we emphasize leadership development for the children in our care in almost every aspect of daily life. Children work toward leadership roles within their cottages, are encouraged to reach for leadership roles in their classrooms and extracurricular activities, and are continually reminded of their God-given leadership abilities and giftings.
We recently held our first annual Makaphutu LeadershipAwards Ceremony to honor the children in the village who have displayed outstanding leadership over the past year. Three awards were given out: the Young Citizen Award (under 14 years old), the Young Adult Citizen Award (14 and over) and the Servant Leadership Award. The Young Citizen and Young Adult Citizen Awards honor those who display honesty, kindness, respect and responsibility. The Servant Leadership Award is the highest honor in the village and recognizes the person who leads by example, displays self-discipline, thinks of others before self, and always gives his/her best effort.
The whole village gathered together for the special Awards Ceremony. A nationally-renowned recording artist, Abdus, served as the Emcee for the event and helped to hand out awards. There was great cheering and excitement at the announcement of each award winner! (See photo above of Abdus with the winners and Makaphutu's CEO Nic Addison.)
"This was truly symbolic of the quality of children that Makaphutu is grooming as leaders of tomorrow," said Siyanda Chonco, the South Africa Director of LOVING SOUTH AFRICA who was on hand for the event. Siyanda helped to announce the winners and said that the children left the event already striving to hear their name called at next year's ceremony!
We are so proud of all of our children! We see future teachers, doctors, pastors and engineers in these beautiful faces, and we celebrate the redemptive work God is doing in our midst!
Please join us in praying for the kids. Pray that God would develop their minds and hearts and grow their faith. Pray that they would believe that what God says about them is true–that they are loved, wonderfully made, and have a future and a hope. Pray that our staff would have the wisdom and energy to care for each individual child. Praise God with us for bringing each precious child into our care. Praise Him for the work He is doing to raise future leaders right here among us.